30 July 2021, Hong Kong - WeLab Bank, a virtual bank in Hong Kong, today announced a new spending rebate campaign. From 1 August to 31 October, customers enjoy 1% cash rebate on all spending with WeLab Debit Card. Customers completing the required number of transactions in a month will be entitled to a 3% cash rebate* on all food and beverage transactions! The offer covers all weekdays and weekends, applicable for dine-in, takeaways and food deliveries in all restaurants, enabling customers to "enjoy every day, reward every meal"!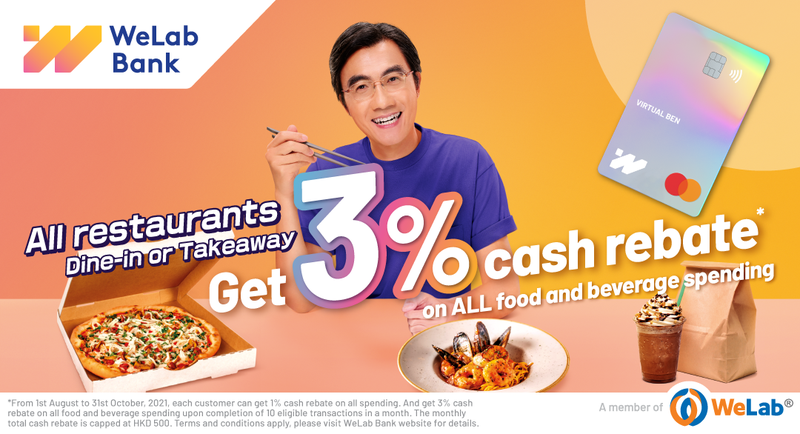 WeLab Bank analyzes customer spending data to understand their spending patterns and curate services and offers best cater to their needs. Previous findings of the Bank reflected that food and beverage is the most popular spending category among WeLab Debit Card users. Therefore, the Bank decided to extend its Friday-to-Sunday-only food and beverage cash rebate campaign to all days in a week, enabling customers to enjoy all kinds of tempting delicacies and promotional offers anytime, anywhere.
The upgraded spending rebate campaign also applies to WeLab Debit Card spending through Apple Pay. For campaign details, please refer here.
Remark:
*From 1st August to 31st October 2021, each customer can get 3% cash rebate on all food and beverage spending upon completion of 10 eligible transactions in a month. The monthly total cash rebate is capped at HKD 500. Terms and conditions apply. For details, please refer here.
---- END ----
About WeLab Bank
Welab Bank Limited ("WeLab Bank" or the "Bank"), is a homegrown virtual bank licensed by the Hong Kong Monetary Authority ("HKMA"). Founded by a team of financial and technology experts, WeLab Bank's mission is to understand customers' needs and design a personalized, intelligent banking experience that helps them manage, save and grow their money. WeLab Bank represents a 100% digital banking experience that is simple, intuitive, and built around our customers. WeLab Bank focuses on the powerful mobile app and the numberless Debit Card, both designed with an obsession with customers' experience and data security.
WeLab Bank is a wholly owned subsidiary of WeLab Holdings Limited ("WeLab"), a leading fintech company in Asia.
To learn more, please visit: www.welab.bank or follow WeLab Bank on Instagram: welab.bank
About WeLab
WeLab, a leading fintech company in Asia, operates one of the first licensed digital banks in Asia - WeLab Bank, as well as multiple online financial services with leading positions in Hong Kong, Mainland China, and Indonesia, with close to 50 million individual users and over 700 enterprise customers. WeLab uses game-changing technology to help customers access credit, save money, and enjoy their financial journey.
Powered by proprietary risk management technology, patented privacy computing techniques, and advanced AI capabilities, WeLab offers mobile-based consumer financing solutions and digital banking services to retail individuals and technology solutions to enterprise customers.
WeLab operates in three markets under seven key brands, including WeLend and WeLab Bank in Hong Kong, WeLab Digital (我来数科), Taoxinji (淘新机), Wallet Gugu (钱夹谷谷), and Tianmian Tech (天冕科技) in Mainland China and Maucash in Indonesia.
WeLab is backed by the most renowned investors including Allianz, China Construction Bank International, International Finance Corporation (a member of the World Bank Group), Malaysian sovereign wealth fund Khazanah Nasional Berhad, CK Hutchison's TOM Group, and Sequoia Capital.
To learn more, please visit: www.welab.co, follow WeLab on LinkedIn and Facebook.
Media Enquiry:
Franky Chan
Tel : +852 6122 6130
Email : [email protected]