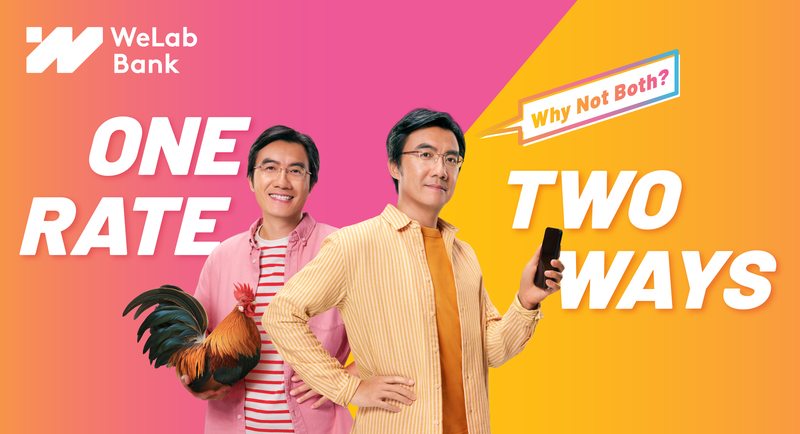 Hong Kong, 18 May 2021 - WeLab Bank, a homegrown virtual bank licensed by the Hong Kong Monetary Authority, today announces the launch of its first loan product, GoFlexi. GoFlexi is a personal instalment loan ranging from HK$10,000 to HK$1,000,000, at tenors from 6 months to 60 months.

First in Hong Kong2
- GoFlexi-Link Launch Promotion
From now to 17 July 2021, WeLab Bank is offering a 'GoFlexi-Link' promotion where customers can enjoy an Annualized Percentage Rate ("APR") as low as 1.68%1 on loans and earn interest rebate at a matching rate that links with the customer's WeLab Bank Core Account balance. One rate two ways, customers can earn interest rebate on the monthly average Core Account balance at the same loan interest rate, capped at 5.0%3 p.a. on 50% of the outstanding loan amount4. GoFlexi-Link promotion details are as follow:
Eligibility: Customers with loan drawdown within the promotional period
Loan amount: HK$100,000 or above
Tenor: 12 months or above
Up to HK$600 Extra Cash Rebate for new WeLab Bank customers
In addition, new WeLab Bank customers will receive a HK$200 instant cash reward5 upon bank account opening by using the referral code 'LINK20' and all customers who successfully draw down a GoFlexi loan will be entitled to an extra cash rebate of HK$4005, regardless of loan amount.

WeLab Bank is dedicated to serve Hong Kong people by addressing their pain points of needing to manage, save, and grow their money. Following the launch of the well-received GoSave time deposit and WeLab Debit Card in 2020, the new GoFlexi is built to shake up lending and saving, free from legacies, for a re-imagined banking experience. The new GoFlexi-Link promotion offers consumers the opportunity to save interest expense and allows flexibility in financial management.
Tat Lee, Chief Executive of WeLab Bank said, "The debut of GoFlexi and the GoFlexi-Link promotion fully demonstrates our deep obsession with integration of WeLab Bank products to offer an intelligent and holistic digital-first banking experience to customers. With our customer-centric approach, we bring to the market a new loan promotion that gives customers greater flexibility and to borrow at a low rate and save at a high rate. One Rate Two Ways. Truly one of a kind in the Hong Kong market today!"
To borrow or not to borrow? Borrow only if you can repay!
Remarks:
The Annualized Percentage Rate ("APR") of 1.68% is calculated based on a loan amount of HKD100,000 or above and repayment tenor of 12 months or above. For a loan amount of HKD100,000 with 24 months repayment tenor, the monthly flat rate is 0.08%. This APR does not include interest rebate. The above rate is for reference only and subject to credit approval, please refer to terms and conditions for details.
Based on market research conducted on 7th May 2021 regarding digital experience for Personal Instalment Loan APR linked with Deposit interest rate.
The interest rebate rate is equal to the Annualized Percentage Rate ("APR") of the Loan after deducting the basic interest rate applicable to the Core Account of the Eligible Customer Core Account Interest Rate. The sum of interest rebate rate and Core Account Interest Rate shall not exceed 5%.
Applicable deposit balance of a calendar month shall be capped at 50% of the outstanding amount of the Loan based on the last day of the preceding calendar month.
GoFlexi Cash Rebate Offer Terms and Conditions apply. For details please refer to the official website of WeLab Bank.


About WeLab Bank
Welab Bank Limited ("WeLab Bank" or the "Bank"), is a homegrown virtual bank licensed by the Hong Kong Monetary Authority ("HKMA"). Founded by a team of financial and technology experts, WeLab Bank's mission is to understand customers' needs and design a personalized, intelligent banking experience that helps them manage, save and grow their money. WeLab Bank represents a 100% digital banking experience that is simple, intuitive, and built around our customers. WeLab Bank focuses on the powerful mobile app and the numberless Debit Card, both designed with an obsession with customers' experience and data security.

WeLab Bank is a wholly owned subsidiary of Welab Holdings Limited ("WeLab"), a leading fintech company in Asia.

To learn more, please visit: www.welab.bank or follow WeLab Bank on Instagram: welab.bank
About WeLab
WeLab, a leading fintech company in Asia, operates one of the first licensed digital banks in Asia - WeLab Bank, as well as multiple online financial services with leading positions in Hong Kong, Mainland China, and Indonesia, with close to 50 million individual users and over 700 enterprise customers. WeLab uses game-changing technology to help customers access credit, save money, and enjoy their financial journey.
Powered by proprietary risk management technology, patented privacy computing techniques, and advanced AI capabilities, WeLab offers mobile-based consumer financing solutions and digital banking services to retail individuals and technology solutions to enterprise customers.
WeLab operates in three markets under seven key brands, including WeLend and WeLab Bank in Hong Kong, WeLab Digital (我来数科), Taoxinji (淘新机), Wallet Gugu (钱夹谷谷), and Tianmian Tech (天冕科技) in Mainland China and Maucash in Indonesia.
WeLab is backed by the most renowned investors including Allianz, China Construction Bank International, International Finance Corporation (a member of the World Bank Group), Malaysian sovereign wealth fund Khazanah Nasional Berhad, CK Hutchison's TOM Group, and Sequoia Capital.
To learn more, please visit: www.welab.co, follow WeLab on LinkedIn and Facebook.
For media enquiries:
Corporate Communications Team
Tel: +852 6467 2757
Email: [email protected]