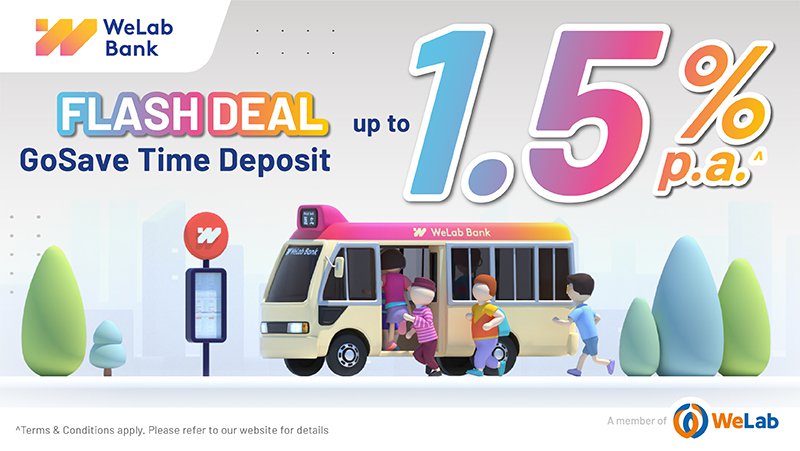 WeLab Bank Flash Deal: Virtual Bank Highest-in-Town 1-month Time Deposit Rate up to 1.5%
New Customers Enjoy 10% F&B Rebate with Code "FOODIE"
30 November 2021, Hong Kong – WeLab Bank, a virtual bank licensed by the Hong Kong Monetary Authority, announced a flash deal for its time deposit product GoSave. During 1-3 December, customers participating in GoSave 1-month time deposit will enjoy the virtual bank highest-in-town interest rate of up to 1.5%1, with no cap on deposit amount. All WeLab Bank customers are eligible for this offer!
GoSave is the first socially-driven time deposit product in Hong Kong. Its interest rate is determined by the number of joiners in each group. The more people who join, the higher the interest rate for all. The deposit amount is as low as HKD10, enabling customers with different deposit amounts to earn the same amazing rate and get closer to their financial goals! Even if the GoSave starts, customers can withdraw up to two times with no additional charges2. This customer-centric arrangement gives control back into the hands of the customers and lets them enjoy both high interest rate of time deposit and high flexibility of saving account!
Holiday F&B offer
As the festive season is approaching, WeLab Bank is also bringing special F&B offers to town! From now on, new customers opening accounts with referral code "FOODIE" can enjoy a 10% spending rebate on food and beverage spending3, applicable to both dine-in and takeaway.
Moreover, all customers spending with WeLab Debit Card will automatically enter the lucky draw with rewards totaling HKD100,000 spending rebate on F&B4 – the more transactions made with the card, the greater the chances of winning. Open an account now to enjoy the exciting offers!

1 "Virtual bank highest-in-town interest rate" means highest 1-month HKD time deposit interest rate among all virtual banks in Hong Kong based on market research conducted on 29 November 2021.
2 Terms and conditions apply. Please click here for details.
3 From now until 31 December 2021, new customers who successfully open an account using referral code "FOODIE" will enjoy 10% cash rebate capped at HKD 500 for all eligible F&B spending conducted by the end of the next calendar month. Terms and conditions apply. Please click here for details.
4 The amount listed is the total reward amount of "The tastiest reward in town". The promotion period of the event is from 18 November 2021 to 28 February 2022. Each winner can enjoy 100% spending rebate on eligible Food & Beverage transactions made with WeLab Debit Card, capped at HKD 500. Terms and conditions apply. Please click here for details.
----- END ----
About WeLab Bank
Welab Bank Limited ("WeLab Bank" or the "Bank"), is a homegrown virtual bank licensed by the Hong Kong Monetary Authority ("HKMA"). Founded by a team of financial and technology experts, WeLab Bank's mission is to understand customers' needs and design a personalized, intelligent banking experience that helps them manage, save and grow their money. WeLab Bank represents a 100% digital banking experience that is simple, intuitive, and built around our customers. WeLab Bank focuses on the powerful mobile app and the numberless Debit Card, both designed with an obsession with customers' experience and data security.
WeLab Bank is a wholly owned subsidiary of WeLab Holdings Limited ("WeLab"), a leading fintech company in Asia. WeLab provides a wide range of digital financial services with leading positions in Hong Kong, Mainland China, and Indonesia, with more than 50 million individual users and over 700 enterprise customers.
WeLab is backed by the most renowned investors including Allianz, International Finance Corporation (a member of the World Bank Group), Malaysian sovereign wealth fund Khazanah Nasional Berhad, CK Hutchison's TOM Group, and Sequoia Capital.
To learn more, please visit www.welab.bank and www.welab.co. Follow WeLab Bank on Instagram: welab.bank.