7 June 2021, Hong Kong - WeLab Bank, a homegrown virtual bank in Hong Kong, announced that its total number of customers surpassed 100,000! Riding on the strong momentum in customer growth in the first half of 2021, the Bank aims to double its base to 200,000 by the end of the year. To thank its customers, the Bank is rolling out a "HKD100,000 Rebate Campaign"1, giving away a total of HKD100,000 spending rebate to 10 lucky customers! Moreover, the Bank has also raised the interest rate of GoSave 3-month Time Deposit to 1%, making it one of the highest interest rate and flexibility in the market. The move is to celebrate this meaningful milestone with its customers!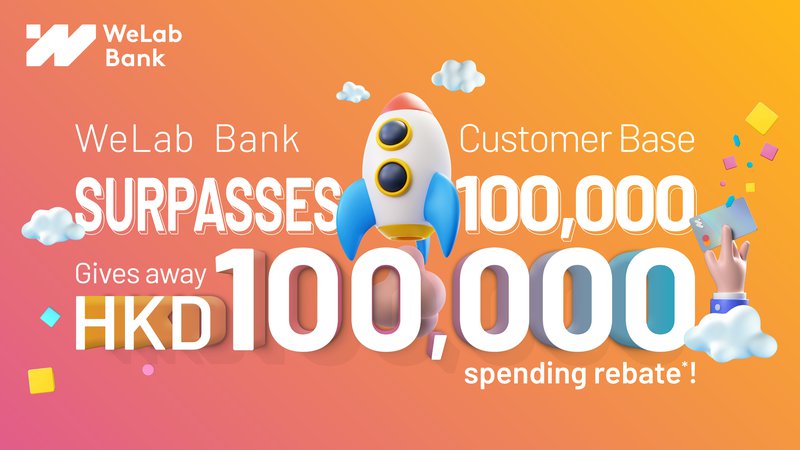 *Terms & Conditions apply.
Tat Lee, Chief Executive of WeLab Bank, said, "We achieved the target of 100,000 customers, reflecting that the Bank's digital banking services are well recognized by the market. By the end of 2021, we aim to double our customer base to 200,000, which amounts to 5 times the customer base at the end of 2020. We are looking forward to providing more customers with a holistic, intelligent digital banking experience, and exemplify our financial inclusion philosophy by bringing a full range of banking services to customers."
"HKD100,000 Rebate Campaign"
To celebrate this occasion, WeLab Bank has launched the "HKD100,000 Rebate Campaign". WeLab Bank customers only need to take three simple steps to become eligible. For details, please refer to the campaign announcement post on WeLab Bank's official Instagram page.
In four consecutive days starting from 15 June, WeLab Bank will randomly select 10 eligible customers in total to offer each of them a HKD10,000 spending rebate on their WeLab Debit Card! The chance of winning increases progressively everyday2, customers not selected will be automatically rolled over to the lucky draw on the next day. The offer can be used in conjunction with other spending rebates and rewards! The results of the lucky draws will be announced at 6pm everyday on WeLab Bank's official Instagram page, stay tuned!
GoFlexi Personal Loan well received by the market
Last month, WeLab Bank launched its first loan product, GoFlexi4 a personal instalment loan at tenors from 6 months to 60 months. In addition, the Bank also offers a "GoFlexi-Link5" promotion where customers can enjoy an Annualized Percentage Rate ("APR") as low as 1.68% on loans and earn interest rebate at a matching rate that links with the customer's WeLab Bank Core Account balance. GoFlexi-Link enables the general public to "borrow low, save high" and gain access to a high rate of interest rebate and financial flexibility at the same time.
GoFlexi loan applications amounting to HKD140 million were received within two weeks since its launch. 80% of all approved loans enjoy the lowest APR of 1.68%. Tat Lee believes that the beauty of GoFlexi and GoFlexi-Link lies in their flexibility. "Currently in the market, financial products integrating deposits and loans are generally available for property owners only. However, with GoFlexi and GoFlexi-Link, all customers can enjoy extra funds at low interest rate while earning high interest rebate for deposits. Many customers found the groundbreaking feature of GoFlexi-Link practical as it is game-changing in personal loan market which better serves their financial needs."
GoSave Time Deposit increases interest rate to 1%
With its socially-driven feature, GoSave Time Deposit3 has been well received by customers since its launch last year. Till now, more than 1,500 "GoSave Minibuses", each carrying 50-100 depositors, have begun; 47% of GoSave Time Deposit active depositors are repeated GoSave users. To show gratitude for customers' long-time support, WeLab Bank has increased the interest rate of GoSave Time Deposit to 1%, offering customers one of the highest rates in the market.
WeLab Bank is gaining traction day by day. Going forward, the Bank will continue to introduce a wider range of financial products for the market, working towards helping customers Manage, Save and Grow their money, and find joy in everyone's financial journey.
Remarks:
1 Terms & Conditions apply. For details of HKD100,000 Rebate Campaign, please refer to here.
2 Winning quota for day 1 is one, day 2 is two, day 3 is three, day 4 is four.
3 Terms & Conditions apply. For details of GoSave Time Deposit, please refer to here.
4 Terms & Conditions apply. For details of GoFlexi Personal Instalment Loan, please refer to here.
5 Terms & Conditions apply. For details of GoFlexi-Link Offer, please refer to here.
---- END ----
About WeLab Bank
Welab Bank Limited ("WeLab Bank" or the "Bank"), is a homegrown virtual bank licensed by the Hong Kong Monetary Authority ("HKMA"). Founded by a team of financial and technology experts, WeLab Bank's mission is to understand customers' needs and design a personalized, intelligent banking experience that helps them manage, save and grow their money. WeLab Bank represents a 100% digital banking experience that is simple, intuitive, and built around our customers. WeLab Bank focuses on the powerful mobile app and the numberless Debit Card, both designed with an obsession with customers' experience and data security.
WeLab Bank is a wholly owned subsidiary of WeLab Holdings Limited ("WeLab"), a leading fintech company in Asia.
To learn more, please visit: www.welab.bank or follow WeLab Bank on Instagram: welab.bank
About WeLab
WeLab, a leading fintech company in Asia, operates one of the first licensed digital banks in Asia - WeLab Bank, as well as multiple online financial services with leading positions in Hong Kong, Mainland China, and Indonesia, with close to 50 million individual users and over 700 enterprise customers. WeLab uses game-changing technology to help customers access credit, save money, and enjoy their financial journey.
Powered by proprietary risk management technology, patented privacy computing techniques, and advanced AI capabilities, WeLab offers mobile-based consumer financing solutions and digital banking services to retail individuals and technology solutions to enterprise customers.
WeLab operates in three markets under seven key brands, including WeLend and WeLab Bank in Hong Kong, WeLab Digital (我来数科), Taoxinji (淘新机), Wallet Gugu (钱夹谷谷), and Tianmian Tech (天冕科技) in Mainland China and Maucash in Indonesia.
WeLab is backed by the most renowned investors including Allianz, China Construction Bank International, International Finance Corporation (a member of the World Bank Group), Malaysian sovereign wealth fund Khazanah Nasional Berhad, CK Hutchison's TOM Group, and Sequoia Capital.
To learn more, please visit: www.welab.co, follow WeLab on LinkedIn and Facebook.
Media Enquiry:
Corporate Communications Team
Tel : +852 6122 6130
Email: [email protected]