4 August 2021, Hong Kong – WeLab Bank, a virtual bank licensed by the Hong Kong Monetary Authority, celebrates its first anniversary with impressive results. Since its launch in July 2020, WeLab Bank has raised public expectations of banking services with the introduction of innovative banking products and services to Hong Kong. The Bank takes great care to deepen customer engagement through socially engaging elements, to the delight of its customer base. In the second half of 2021, the Bank will continue to help its customers Manage, Save, and Grow their money with the introduction of enhanced intelligent banking experiences, and the continued development of digital wealth management solutions.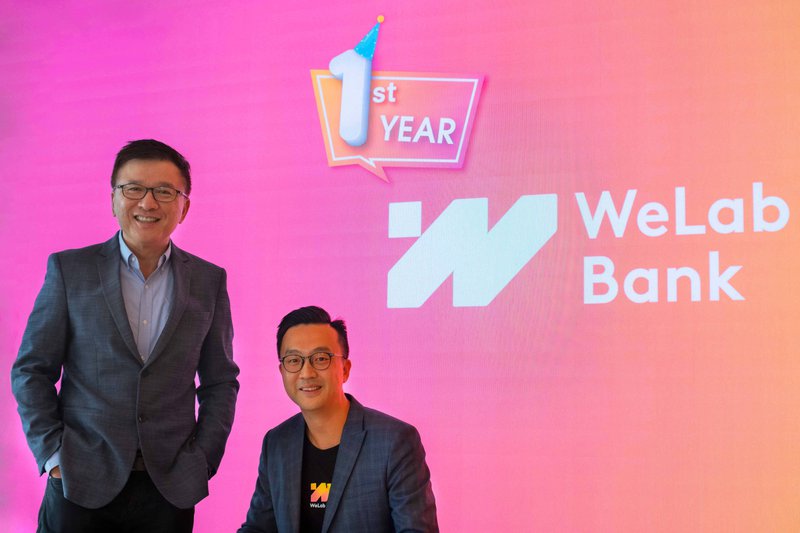 WeLab Bank Chairman Professor KC Chan (left) and Chief Executive Tat Lee (right) believe that the Bank has
reshaped Hong Kong's banking services with intelligent banking experience
WeLab Bank counts amongst its business achievements a customer base of about 130,000 customers. The Bank's iconic, socially-driven GoSave time deposit remains popular, contributing to the Bank's total book deposit of HKD2 billion at end June 2021; the deposit-linked personal instalment loan GoFlexi recorded a total applications amount of about HKD700 million; the first numberless WeLab Debit Card recorded close to HKD450 million in spending transactions. In terms of engagement, the card boasts a repeated user proportion of 87%, with spending on everyday use being the most popular merchant categories in general. Besides, 56% of the Bank's customers are monthly active users of WeLab Bank mobile app. These data reflect that WeLab Bank customers are deeply engaged with its products.
Reshaping the local banking industry with ground-breaking innovations
WeLab Bank Chairman, Professor KC Chan is very proud of WeLab Bank's achievement in the first year. "In just one year, WeLab Bank has catalyzed digital transformation by introducing many digital-first innovative ideas to change the public's deeply rooted impressions of banking services and enabled the public to manage their finance with higher flexibility and enjoyment in the process. Today, the Hong Kong banking industry is markedly different than a year ago before WeLab Bank launched."
Multiple "First in Hong Kong" offerings that are loved by customers
Tat Lee, WeLab Bank Chief Executive, thanks customers for their support. "Using data, the power of social and a commitment to financial inclusion as cornerstones, WeLab Bank has introduced many 'First in Hong Kong' products and services." Tat recaps inaugural products such as the numberless WeLab Debit Card; and GoSave, the first high interest time deposit product based on the number of depositors; and GoFlexi, Hong Kong's first deposit-linked personal instalment loan. Tat continued, "Watch out for WeLab Bank as we bring new intelligent banking experiences to Hong Kong in the second half of 2021, including the collaboration with Allianz Global investors on developing digital wealth management solutions."
Introduction of intelligent banking experiences
WeLab Bank will continue to utilize cutting-edge technology, such as big data and AI, combined with its banking expertise and profound understanding of this industry, to bring about better digital banking services for customers in the second half of 2021. In addition, the Bank will make use of wealth tech to facilitate financial planning for the mass and enable investment engagement at all levels, keeping in the spirit of financial inclusion for all. As WeLab Bank's product suite becomes more comprehensive, the Bank will leverage the power of technology to provide relevant and intelligent banking experiences.
---- END ----
About WeLab Bank
Welab Bank Limited ("WeLab Bank" or the "Bank"), is a homegrown virtual bank licensed by the Hong Kong Monetary Authority ("HKMA"). Founded by a team of financial and technology experts, WeLab Bank's mission is to understand customers' needs and design a personalized, intelligent banking experience that helps them manage, save and grow their money. WeLab Bank represents a 100% digital banking experience that is simple, intuitive, and built around our customers. WeLab Bank focuses on the powerful mobile app and the numberless Debit Card, both designed with an obsession with customers' experience and data security.
WeLab Bank is a wholly owned subsidiary of WeLab Holdings Limited ("WeLab"), a leading fintech company in Asia.
To learn more, please visit: www.welab.bank or follow WeLab Bank on Instagram: welab.bank
About WeLab
WeLab, a leading fintech company in Asia, operates one of the first licensed digital banks in Asia - WeLab Bank, as well as multiple online financial services with leading positions in Hong Kong, Mainland China, and Indonesia, with close to 50 million individual users and over 700 enterprise customers. WeLab uses game-changing technology to help customers access credit, save money, and enjoy their financial journey.
Powered by proprietary risk management technology, patented privacy computing techniques, and advanced AI capabilities, WeLab offers mobile-based consumer financing solutions and digital banking services to retail individuals and technology solutions to enterprise customers.
WeLab operates in three markets under seven key brands, including WeLend and WeLab Bank in Hong Kong, WeLab Digital (我来数科), Taoxinji (淘新机), Wallet Gugu (钱夹谷谷), and Tianmian Tech (天冕科技) in Mainland China and Maucash in Indonesia.
WeLab is backed by the most renowned investors including Allianz, China Construction Bank International, International Finance Corporation (a member of the World Bank Group), Malaysian sovereign wealth fund Khazanah Nasional Berhad, CK Hutchison's TOM Group, and Sequoia Capital.
To learn more, please visit: www.welab.co, follow WeLab on LinkedIn and Facebook.
Media Enquiry:
Franky Chan
Tel : +852 6122 6130
Email : [email protected]