Hong Kong, 15 June, 2021 - WeLab Bank, a homegrown virtual bank authorized by the Hong Kong Monetary Authority, today brings its customers Apple Pay, a safe, secure and private way to pay that helps customers avoid handing their payment card to someone else, touching physical buttons or exchanging cash — and uses the power of iPhone to protect every transaction.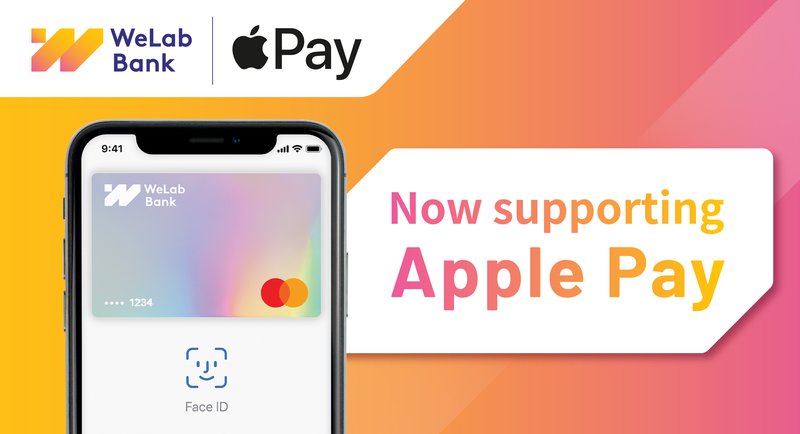 Customers simply hold their iPhone or Apple Watch near a payment terminal to make a contactless payment. Every Apple Pay purchase is secure because it is authenticated with Face ID, Touch ID, or device passcode, as well as a one-time unique dynamic security code. Apple Pay is accepted in grocery stores, pharmacies, taxis, restaurants, coffee shops, retail stores, and many more places. Customers can also use Apple Pay on iPhone, iPad, and Mac to make faster and more convenient purchases in apps or on the web in Safari without having to create accounts or repeatedly type in shipping and billing information.
Apple Pay makes it easier to pay for food and grocery deliveries, online shopping, transportation, and parking, among other things. Apple Pay can also be used to make payments in apps on Apple Watch. Security and privacy are at the core of Apple Pay. When customers use WeLab Debit Card with Apple Pay, the actual card numbers are not stored on the device, nor on Apple servers. Instead, a unique Device Account Number is assigned, encrypted, and securely stored in the Secure Element, an industry-standard, certified chip designed to store the payment information safely on the device. Apple Pay is easy to set up.
On iPhone, simply open the Wallet app, tap +, and follow the steps to add WeLab Debit Card. Once a customer adds a card to iPhone, Apple Watch, iPad, and Mac, they can start using Apple Pay on that device right away. Customers will continue to receive all of the rewards and benefits offered by the WeLab Debit Card. For more information on Apple Pay, visit: http://www.apple.com/hk/en/apple-pay/. For more information on WeLab Bank, please visit http://www.welab.bank or follow WeLab Bank on Instagram: welab.bank
---- END ----
About WeLab Bank
Welab Bank Limited ("WeLab Bank" or the "Bank"), is a homegrown virtual bank licensed by the Hong Kong Monetary Authority ("HKMA"). Founded by a team of financial and technology experts, WeLab Bank's mission is to understand customers' needs and design a personalized, intelligent banking experience that helps them manage, save and grow their money. WeLab Bank represents a 100% digital banking experience that is simple, intuitive, and built around our customers. WeLab Bank focuses on the powerful mobile app and the numberless Debit Card, both designed with an obsession with customers' experience and data security.
WeLab Bank is a wholly owned subsidiary of WeLab Holdings Limited ("WeLab"), a leading fintech company in Asia.
To learn more, please visit: www.welab.bank or follow WeLab Bank on Instagram: welab.bank
About WeLab
WeLab, a leading fintech company in Asia, operates one of the first licensed digital banks in Asia - WeLab Bank, as well as multiple online financial services with leading positions in Hong Kong, Mainland China, and Indonesia, with close to 50 million individual users and over 700 enterprise customers. WeLab uses game-changing technology to help customers access credit, save money, and enjoy their financial journey.
Powered by proprietary risk management technology, patented privacy computing techniques, and advanced AI capabilities, WeLab offers mobile-based consumer financing solutions and digital banking services to retail individuals and technology solutions to enterprise customers.
WeLab operates in three markets under seven key brands, including WeLend and WeLab Bank in Hong Kong, WeLab Digital (我来数科), Taoxinji (淘新机), Wallet Gugu (钱夹谷谷), and Tianmian Tech (天冕科技) in Mainland China and Maucash in Indonesia.
WeLab is backed by the most renowned investors including Allianz, China Construction Bank International, International Finance Corporation (a member of the World Bank Group), Malaysian sovereign wealth fund Khazanah Nasional Berhad, CK Hutchison's TOM Group, and Sequoia Capital.
To learn more, please visit: www.welab.co, follow WeLab on LinkedIn and Facebook.
Media Enquiry:
Franky Chan
Tel : +852 6122 6130
Email : [email protected]