WeLab Bank (or the "Bank"), the most innovative company in Hong Kong1, announced that the Bank has signed a memorandum of understanding with the one of the world's largest global electric vehicle (EV) manufacturer Tesla. The two leading innovative companies will collaborate on improving customer experiences in a sustainable manner with advanced technologies. It would further merge its intelligent banking experience with Tesla's sustainable development proposition, and support the development of green economy with its personalized banking services.
WeLab Bank started collaboration with Tesla earlier this year. It launched Hong Kong's first Tesla user dedicated special offer "Tesla Mega Combo". The Combo provides Tesla users with a suite of intelligent banking services covering unsecured loan, daily spending, deposits and wealth management, holistically assisting them to manage, save and grow (MSG) their money. Over 90% of customers have used two or more banking services in the offer, exemplifying that the Combo is well-designed to cater to Tesla users' daily financial needs. Tesla Mega Combo is well-received by the Tesla community and the market. On top of becoming one of the top-3 financial institutions offering unsecured Tesla EV loans in Hong Kong in just a few months, WeLab Bank is also the top lender to finance new Tesla cars in the retail market. Building on this success, WeLab Bank and Tesla will strengthen their collaboration by forming a strategic partnership and co-creating a tech-enabled brand-new user experience.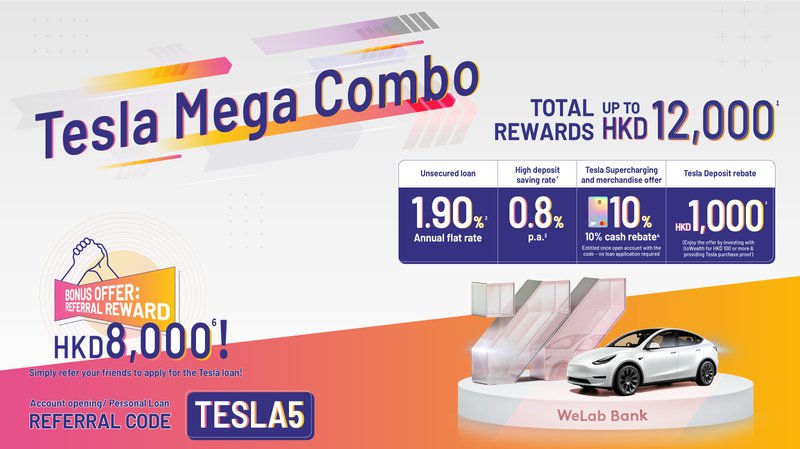 WeLab Bank launched Hong Kong's first Tesla user dedicated special offer "Tesla Mega Combo" earlier this year.
WeLab Bank Chief Executive Tat Lee said, "As the most innovative company in Hong Kong, WeLab Bank shares Tesla's devotion to technological innovation. Tesla has made tremendous contributions to clean energy development and redefined the automobile industry. Both WeLab Bank and Tesla are leading in our respective industry with disruptive mindsets. The shared commitment to enhancing user experience, promoting sustainable development and improving lives with technology makes the two companies a perfect match. The strategic partnership of WeLab Bank and Tesla means further integration of the companies' ecosystems, embedding intelligent banking services into Tesla users everyday financial needs, encouraging customers to embrace green economy, and working together for a tech-driven sustainable future."
"Tesla's mission is to accelerate the world's transition to sustainable energy. Our energy products and best-selling electric vehicles in the market offer innovative, sustainable and comprehensive EV ownership experience to our consumers. We believe with the add-on of the WeLab Bank loan and banking services, these could provide flexible financing options for EV ownership, at the same time, fulfilling the day-to-day needs of our Tesla owners", said Isabel Fan, Regional Director for Tesla Hong Kong, Macau and Singapore.
Tesla Mega Combo is the first Tesla-user dedicated special offer in Hong Kong. Key features* include:

*Terms and conditions apply. For more details about WeLab Bank Tesla Mega Combo, please refer to WeLab Bank offical website.
To borrow or not to borrow? Borrow only if you can repay!
Disclaimers: The above information is for reference only and does not constitute any offer, solicitation, recommendation, comment or any guarantee to the purchase or sale of any investment products or services. The investment products or services are not equivalent to, nor should it be treated as a substitute for, time deposit. Investment involves risks, the value of investment products may go up or down and the investment products may even become valueless. The contents above have not been reviewed by the Securities and Futures Commission.
Remark:
1According to the Corporate Innovation Index (CII) 2022 announced by the Chinese University of Hong Kong, WeLab Bank has achieved the highest score.
---- END ----
About WeLab Bank
Welab Bank Limited ("WeLab Bank" or the "Bank") is the most innovative company named by the Chinese University of Hong Kong. Founded by a team of financial and technology experts, WeLab Bank's mission is to understand customers' needs and design a personalized, intelligent banking experience that helps them manage, save and grow their money. WeLab Bank represents a 100% digital banking experience that is simple, intuitive, and built around our customers. It focuses on the powerful mobile app and multiple intelligent banking services, and delivers an innovative banking experience through partnering with reputable brands including Allianz Global Investors, Tesla and Apple Authorized Resellers.
WeLab Bank is a wholly owned subsidiary of WeLab Holdings Limited ("WeLab"), a leading pan-Asian fintech platform. WeLab provides a wide range of digital financial services with leading positions in Hong Kong, Mainland China, and Indonesia, with more than 55 million individual users and over 700 enterprise customers. In Hong Kong, one in 4.3 tech-savvy young adults is a WeLab user, reflecting WeLab being the preferred fintech partner in the market.
WeLab is backed by the most renowned investors including Allianz, International Finance Corporation (a member of the World Bank Group), Malaysian sovereign wealth fund Khazanah Nasional Berhad, CK Hutchison's TOM Group, and Sequoia Capital.
To learn more, please visit www.welab.bank and www.welab.co. Follow WeLab Bank on Instagram: welab.bank.