By popular demand, the 8% cash rebate on WeLab Debit Card spending1 will be extended to September
Hong Kong – August 10, 2020 – WeLab Bank ("WeLab Bank" or the "Bank"), a homegrown virtual bank, has accumulated a total of over 10,000 applications since launching to the public less than 10 days ago. The need for a new generation of banking services seems stronger than ever amid the pandemic as customers are able to open accounts remotely anytime and anywhere in a secure and convenient way. WeLab Bank's products have been well received by our customers since its launch, with more than 8,200 customers participating in GoSave time deposits to earn competitive interest rates. To show our appreciation for everyone's support and overwhelming response, WeLab Bank will extend the 8% cash rebate1 offer on the WeLab Debit Card to the end of September this year.
WeLab Bank is 100% digital, built for customers to enjoy a range of next generation digital services 24/7 from their mobile phones. In as fast as 5 minutes, customers can remotely open a WeLab Bank account with $0 monthly fee, and enjoy differentiated services such as interest-bearing deposit account and time deposits with competitive rates, immediately.
Adrian Tse, Chief Executive of WeLab Bank said, "WeLab Bank is committed to promoting financial inclusion and building customer-centric products with superior experience. The experience from account opening to product experience is simple and popular across all age spectrums. Demographics wise, our customers are aged between 18 to 83, with over 70% between 20 to 39 years old. Our oldest customer who is 83 years old successfully opened an account within 5 minutes using a mobile phone. By leveraging our expertise in technology and product design, WeLab Bank is able to provide customers with an efficient experience. As a licensed bank regulated by the Hong Kong Monetary Authority, all our products and technology have passed a third-party independent assessment to ensure safety and reliability for our customers.
In addition, more than 60% of customers are using two or more WeLab Bank products. More than 70% of customers have also used Faster Payment System (FPS) via the WeLab Bank app to make real-time payments to friends or merchants.
Online spending with the WeLab Debit Card doubled since public launch
Contrary to traditional bank cards, upon account opening, a WeLab Debit Card is available for immediate use in the form of a virtual card in the WeLab Bank app. A physical card, which is issued in partnership with Mastercard and the first publicly launched numberless Debit Card in the market, will be available shortly after. Thanks to Mastercard's fast, secure and reliable global network, WeLab Bank cardholders can enjoy a robust, multi-layered protection when making purchases.
Among the customers who have used this card, more than 65% are frequent customers who often use WeLab Debit Card for transactions. Over the past ten days, nearly 60% of transactions are online transactions, in contrast to the WeLab Bank Pilot period where only 30% of the transactions were made online. The 8% cash rebate1 on WeLab Debit Card has received overwhelming response. To thank our customer for the strong support, the cash rebate offer will be extended to the end of September.
More than 8,200 customers have participated in the attractive GoSave time deposit, backed with the assurance of deposit protection.
WeLab Bank is a member of the Deposit Protection Scheme (DPS), where eligible deposits taken by WeLab Bank are protected by the Scheme up to a limit of HKD500,000 per depositor.
GoSave is Hong Kong's first savings product that harnesses the power of the community. Customers can benefit from higher interest rate as more people join each GoSave group. GoSave is driving financial inclusion by differentiating from traditional time deposit products where higher interest rates are only reserved for large-amount deposits or select customers, whereas all GoSave customers can start from just HKD10 – and have the flexibility to withdraw their funds at any time without additional fees.
Since launching GoSave, a total of 137 GoSave minibuses have commenced with more than 8,200 customers participating, of which ~25% have joined more than one GoSave minibus.
Adrian Tse added, "The pandemic has created challenges for many industries. While some banks have shortened their branch banking hours, WeLab Bank continues to provide a refreshing banking experience to the Hong Kong people efficiently. WeLab Bank is fully digital and everything can be done simply from their phone. Customers can open an account anytime, anywhere in as fast as 5 minutes, immediately use the virtual Debit Card to earn cash rebates, and board the GoSave minibus to earn competitive interest rates. The experience is simple and straightforward!"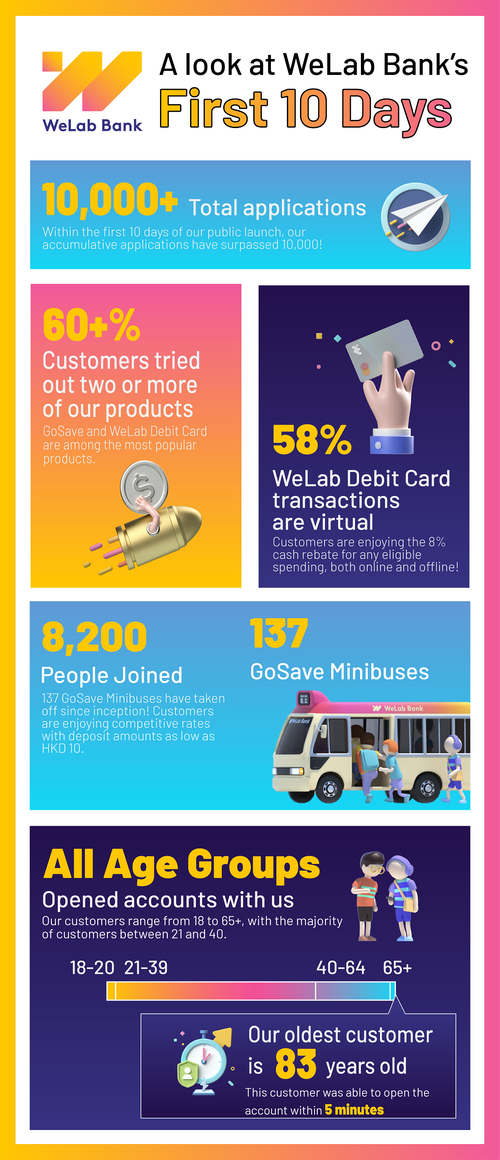 [1] The maximum aggregated transaction amount eligible for the cash rebate shall be capped at HKD 3,000 for the entire Offer Period. For details, please refer to the relevant terms and conditions.
-- END --
About WeLab Bank
Welab Bank Limited ("WeLab Bank" or the "Bank"), is a homegrown virtual bank licensed by the Hong Kong Monetary Authority ("HKMA"). Founded by a team of financial and technology experts, WeLab Bank's mission is to understand customers' needs and design a personalized, full-service banking experience that helps them manage and grow their money.
WeLab Bank represents a 100% digital banking experience that is simple, intuitive and built around our customers. WeLab Bank focuses on the powerful mobile app and the numberless Debit Card, both designed with obsession with customers' experience and data security.
WeLab Bank is a wholly owned subsidiary of WeLab Holdings Limited ("WeLab"), a leading fintech company in Asia.
To learn more, please visit: www.welab.bank or follow us on Instagram: welab.bank
About WeLab
Founded in 2013, WeLab uses game-changing technology to help customers access credit, save money, and enjoy their financial journey. Currently, WeLab serves over 46 million users and 300 enterprise customers across Hong Kong, Mainland China and Indonesia.
Powered by proprietary risk management technology, patented privacy computing techniques and advanced AI capabilities, WeLab offers mobile-based consumer financing solutions and digital banking services to retail individuals and technology solutions to enterprise customers.
WeLab operates in three markets under six key brands, including WeLend and WeLab Bank in Hong Kong, WeLab Digital (我来数科), Taoxinji (淘新机) and Tianmian Lab (天冕大数据实验室) in Mainland China and Maucash in Indonesia.
WeLab's investors include Malaysian sovereign wealth fund Khazanah Nasional Berhad, CK Hutchison's TOM Group, International Finance Corporation (a member of the World Bank Group), Alibaba Entrepreneurs Fund, Sequoia Capital and ING Bank.
To learn more, please visit: www.welab.co, follow WeLab on LinkedIn and Facebook.
For media enquiries:
Corporate Communications Team
Tel: +852 3706 9379
Email:

[email protected]