23 June 2021, Hong Kong - WeLab Bank, a homegrown virtual bank in Hong Kong, today launched its "HK's First Mind-blowing R Friends Referral Campaign". Upon successful referral for opening a WeLab Bank account, both the referrer and referee will get HKD100 referral rewards. Moreover, when the referee refers another friend to open an account, all three customers get rewards! The referral rewards extend to three layers of referees. The multi-layer rewards mechanics takes referral campaigns to the next level; each customer can earn as much as HKD5,000* referral rewards! In addition, all successful referrers and referees can participate in the weekly lucky draws* of HKD5,000 spending rebate for a lucky winner each week! To end on a high note, the Bank will hold a finale draw* at the end of September, where two lucky customers will each take home the grand prize of HKD100,000 spending rebate!
So now, gather your friends and encourage them to refer even more friends so that you can sit back, relax and let your friends make the most out of the campaign for you, and look forward to the weekly lucky draw prizes and the grand prize! The earlier you act, the more chances you win the prizes. Refer your friends now!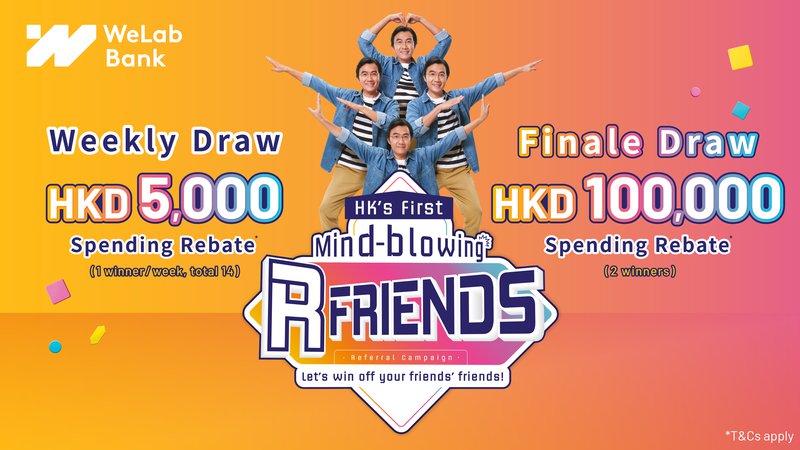 Starting today until the end of September, with the WeLab Bank app updated to the latest version, customers can log in to the app and get their unique referral code (FPXXXX) by tapping the top right-hand corner. Upon successfully referring friends with his/her unique referral code, the customer and his/her direct referral friend (Layer-1 friend) will both get HKD100 rewards. When the direct referral uses his/her unique referral code to further refer a new friend (Layer-2 friend), not only do the direct referral and the new friend each get HKD100, but the original referrer can also earn a HKD50 reward! The same mechanics apply up to Layer-3 friends!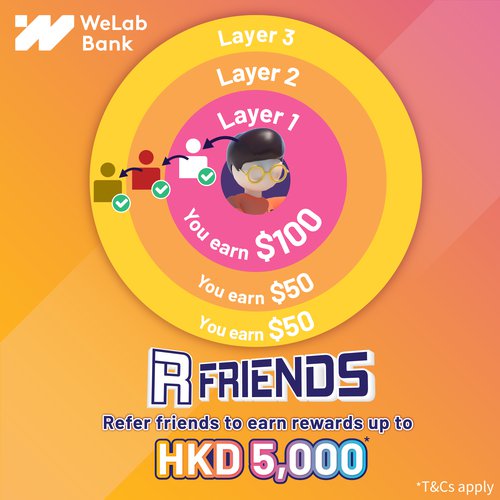 Thus,
the more direct referral friends one has, the higher chance he/she can earn rewards from their layer-2 and layer-3 friends. Simply refer the right friends, chill out and wait effortlessly for the rewards. HKD5,000* reward could be just a few referrals away!
To add more excitement to the referral campaign, WeLab Bank has also rolled out weekly lucky draws for successful referrers and referees of R Friends Referral Campaign who have completed a simple mission; the winner of each week will get HKD5,000 spending rebate! A finale draw will take place at the end of September, where two lucky customers will each take home the grand prize of HKD100,000 spending rebate! Please refer to WeLab Bank's official Instagram page and Facebook page for mission details and results of the lucky draws. For now, simply share your referral code and secure every winning chance!
Tat Lee, Chief Executive of WeLab Bank, said the latest referral campaign is much more than attracting more new customers. It is also about exemplifying the Bank's mission of "bringing joy to everyone's financial journey". "At WeLab Bank, we believe the power of social is an irreversible trend. We spice up the traditional customer referral program with innovative ideas and social element. To reward customers for their loyalty, we make it possible to let customers introduce our holistic and intelligent digital banking experience to their friends while earning rewards in a fun way. We want to break the stereotype of banking services in people's mind, and encourage them to find joy in their financial journey."
For details about R Friends Referral Campaign, please refer here, or click here to view video.
Remark:
*Terms and conditions apply。For details, please refer here.
---- END ----
About WeLab Bank
Welab Bank Limited ("WeLab Bank" or the "Bank"), is a homegrown virtual bank licensed by the Hong Kong Monetary Authority ("HKMA"). Founded by a team of financial and technology experts, WeLab Bank's mission is to understand customers' needs and design a personalized, intelligent banking experience that helps them manage, save and grow their money. WeLab Bank represents a 100% digital banking experience that is simple, intuitive, and built around our customers. WeLab Bank focuses on the powerful mobile app and the numberless Debit Card, both designed with an obsession with customers' experience and data security.
WeLab Bank is a wholly owned subsidiary of WeLab Holdings Limited ("WeLab"), a leading fintech company in Asia.
To learn more, please visit: www.welab.bank or follow WeLab Bank on Instagram: welab.bank
About WeLab
WeLab, a leading fintech company in Asia, operates one of the first licensed digital banks in Asia - WeLab Bank, as well as multiple online financial services with leading positions in Hong Kong, Mainland China, and Indonesia, with close to 50 million individual users and over 700 enterprise customers. WeLab uses game-changing technology to help customers access credit, save money, and enjoy their financial journey.
Powered by proprietary risk management technology, patented privacy computing techniques, and advanced AI capabilities, WeLab offers mobile-based consumer financing solutions and digital banking services to retail individuals and technology solutions to enterprise customers.
WeLab operates in three markets under seven key brands, including WeLend and WeLab Bank in Hong Kong, WeLab Digital (我来数科), Taoxinji (淘新机), Wallet Gugu (钱夹谷谷), and Tianmian Tech (天冕科技) in Mainland China and Maucash in Indonesia.
WeLab is backed by the most renowned investors including Allianz, China Construction Bank International, International Finance Corporation (a member of the World Bank Group), Malaysian sovereign wealth fund Khazanah Nasional Berhad, CK Hutchison's TOM Group, and Sequoia Capital.
To learn more, please visit: www.welab.co, follow WeLab on LinkedIn and Facebook.
Media Enquiry:
Franky Chan
Tel : +852 6122 6130
Email : [email protected]