WeLab Bank, the virtual bank dedicated to curating intelligent banking experience, announced its first in Hong Kong TESLA 3-in-1 Combo tailored for the needs of TESLA users in daily spendings, loans and savings1. From today until 31 August 2022, customers applying for unsecured TESLA electric car loan with referral code "TESLA1" will enjoy a fixed loan APR of 3.68%2, a special savings account interest rate of 0.8% p.a.3, plus an exclusive offer of 10% cash rebate for Supercharge, Premium Connectivity subscription and Tesla online shop transactions4. The cash rebates brought by the Combo is valued up to HKD3,000. All new customers opening a WeLab Bank account with referral code "TESLA1" are also entitled to the 10% cash rebate on designated TESLA transactions.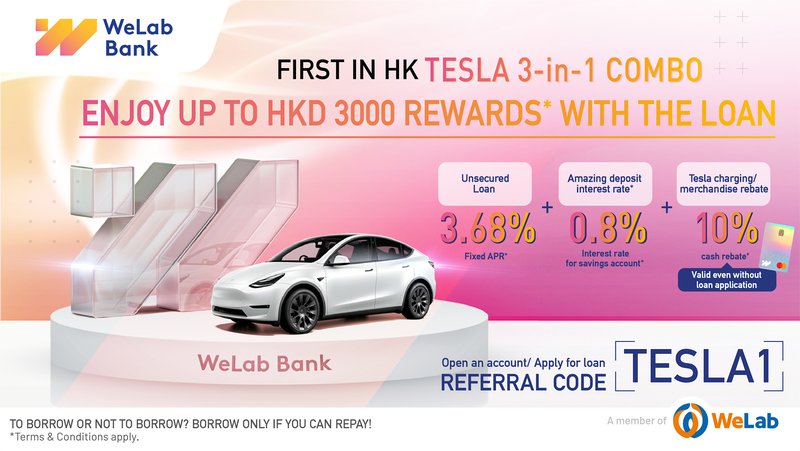 WeLab Bank launches TESLA 3-in-1 Combo, covering 10% cash rebate for Supercharge and TESLA online shops, unsecured car loan at fixed APR of 3.68% and a savings account interest rate of 0.8% p.a. 
The unsecured car loan of TESLA 3-in-1 Combo is now available for application within the WeLab Bank app. Taking advantage of its fintech capability, WeLab Bank streamlined the loan application process while upholding its principle of safety and prudence, making it possible for customers to exempt the submission of Vehicle Registration Document. Customers can complete their applications digitally in just three steps, and may receive the loan disbursement in as fast as one day5! With tenor options up to 60 months, zero loan prepayment and zero handling fee, the loan offer provides maximum flexibility to customers.
Upon successful applications, customers can also enjoy a savings account interest rate of 0.8% p.a. for up to HKD 300,000 in their core accounts for as long as 12 months. The special interest rate is about 800 times of the prevailing market rates6!
Moreover, with the above-mentioned referral code, customers who successfully open a WeLab Bank account, or apply for and draw down the loan, will enjoy an exclusive offer of 10% cash rebate! Enjoy the dedicated rewards for drivers simply by using a WeLab Debit Card on Supercharge, Premium Connectivity subscription and Tesla online shop transactions!
WeLab Bank Chief Executive Tat Lee said that WeLab Bank makes every attempt to establish touchpoints with customers' daily lives; the Bank also expands its ecosystem of intelligent banking experience through cross-industry collaborations. All efforts are to earn customer trust and become their reliable go-to banking partner in everyday usage scenarios. "We curated our latest offer for TESLA-users because WeLab Bank shares the same belief with TESLA – we both believe technology will bring a better tomorrow and support the idea of sustainable development with actions. The Combo is also the Bank's effort to tap into TESLA's ecosystem; by extending WeLab Bank's intelligent banking experience to drivers who share the same vision in technology, we are inviting more people to enjoy the reimagined banking experience together."
Tat also pointed out that digital banking services help significantly reduce the consumption of paper and energy, alleviating the impact on the environment. He hopes TESLA 3-in-1 Combo would encourage more drivers to switch to clean energy and contribute to a sustainable future with the aid of technology.
For more details about TESLA 3-in-1 Combo, please refer to WeLab Bank official website.
Reminder: To borrow or not to borrow? Borrow only if you can repay!
1Terms and conditions apply to TESLA 3-in-1 Combo. The promotion is subject to a quota and is available on a first-come, first-served basis. For details, please refer to https://welab.app.link/e/tesla_tnc_EN.
2The Annualised Percentage Rate ('APR') of 3.68% is calculated based on a loan amount of HKD10,000 or above and a repayment tenor of 36/48/60 months. The APR is calculated using method specified in relevant guidelines issued by the Hong Kong Associations of Banks. The APR is a reference rate, which includes all applicable interest rates, fees and charges of the product, expressed as an annualised rate. The final approved interest will be subject to the bank's approval.
3During the promotion period, starting from the date on which you have drawn down the loan and the subsequent 11 calendar months, your Core Account deposit (daily balance up to HKD300,000) are entitled to the savings cash rebate. The amount of the rebate is calculated on the basis of simple interest and based on the special interest rate (your prevailing Core Account interest rate and the special interest rate amount to 0.8% in total).
4Customers are entitled to a 10% cash rebate when using WeLab Debit Card for eligible transactions conducted from the date of successful account opening or the date of successful loan drawdown until the following 5th calendar month. Monthly capped at HKD100.
5The actual time for loan approval and the loan disbursement may vary depending on the information provided by the customer and are subject to the credit assessment result.
6Assuming other banks are offering 0.001% interest rate without any promotions.
----- END ----
About WeLab Bank
Welab Bank Limited ("WeLab Bank" or the "Bank"), is a homegrown virtual bank licensed by the Hong Kong Monetary Authority ("HKMA"). Founded by a team of financial and technology experts, WeLab Bank's mission is to understand customers' needs and design a personalized, intelligent banking experience that helps them manage, save and grow their money. WeLab Bank represents a 100% digital banking experience that is simple, intuitive, and built around our customers. WeLab Bank focuses on the powerful mobile app and the numberless Debit Card, both designed with an obsession with customers' experience and data security.
WeLab Bank is a wholly owned subsidiary of WeLab Holdings Limited ("WeLab"), a leading fintech company in Asia. WeLab provides a wide range of digital financial services with leading positions in Hong Kong, Mainland China, and Indonesia, with more than 50 million individual users and over 700 enterprise customers.
WeLab is backed by the most renowned investors including Allianz, International Finance Corporation (a member of the World Bank Group), Malaysian sovereign wealth fund Khazanah Nasional Berhad, CK Hutchison's TOM Group, and Sequoia Capital.
To learn more, please visit www.welab.bank and www.welab.co. Follow WeLab Bank on Instagram: welab.bank.